Index Monitoring Cell (IMC):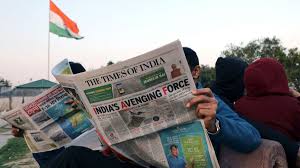 Pointing out that the right to dissent should be the central focus of press freedom, independent journalist P. Sainath struck a dissenting note in the report submitted by the Index Monitoring Cell (IMC).
The Index Monitoring Cell (IMC) was set up by the Information and Broadcasting Ministry with stakeholders to improve India's ranking in the World Press Freedom Index and to evolve an objective yardstick to gauge media freedom.
The 15-member committee, which had four meetings between May and December last year, has four journalists and government functionaries.
Chaired by Kuldeep Singh Dhatwalia, Principal Director General of the Press Information Bureau, the committee has 10 government employees.
Recommendations of report:
Among the key recommendations is the decriminalising of defamation. India is one of the few countries in the world to criminalise defamation.
The panel has also recommended that consent of the Press Council of India is a prerequisite before filing an FIR against the media or a publication.
Sainath pointed out that the report failed in its objective to analyse the World Press Freedom Index (of Paris-based Reporters Without Borders or RSF), and India's performance in it with a view to identify areas of strengths and concern related to press freedom in India.