India-Korea Friendship Park: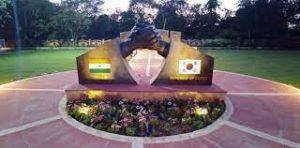 Indian Defence Minister and his South Korean counterpart inaugurated the India-Korea Friendship Park in a ceremony at the Delhi Cantonment.
Later on both the ministers concluded a bilateral meeting and explored different areas of cooperation.
Earlier in February 2019, the Prime Minister of India visited South Korea (Republic of Korea).
The park has been developed in joint consultation with the Ministry of Defence, Government of India, Indian Army, Delhi Cantonment Board, Embassy of Korea and Korean War Veterans Association of India.
The park's significance is not only because of it being a symbol of strong India-South Korea friendly relations but also as a monument to India's contributions as part of 21 countries that participated in the Korean war 1950-53, under the aegis of the United Nations.
Issues Discussed at the Meet:
Discussed maritime cooperation as part of the Indo-Pacific strategy and also cooperation in the defense industry and future technologies.
The two countries have a logistics agreement helping the Indian navy while operating in the Indo-Pacific region.