Indian Virtual Herbarium: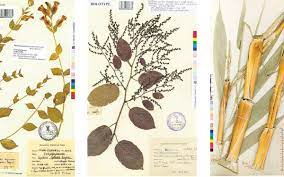 With details of about one lakh plant specimens, the Indian Virtual Herbarium, the biggest virtual database of flora in the country, is generating a lot of interest and turning out to be an eye-catching endeavour.
In the Mann Ki Baat episode on July 31, PM Modi spoke about the novel initiative, and said that the herbarium was an interesting collection of plants and preserved parts of plants.
Developed by scientists of the Botanical Survey of India (BSI), the herbarium was inaugurated by Union Minister of Environment Forest and Climate Change Bhupendra Yadav in Kolkata on July 1.
Since then, the portal ivh.bsi.gov.in has had nearly two lakh hits from 55 countries.
Each record in the digital herbarium includes an image of the preserved plant specimen, scientific name, collection locality, and collection date, collector name, and barcode number.
The digital herbarium includes features to extract the data State-wise, and users can search plants of their own States, which will help them identify regional plants and in building regional checklists.