India's Crude Oil Production And Natural Gas Output Declined: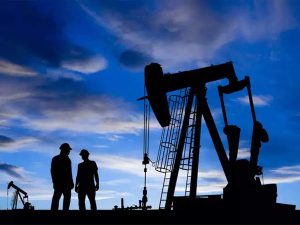 According to the latest government data India's crude oil production and natural gas output declined in the Financial Year (FY) 2020-2021.
India's crude oil and natural gas production have been falling consistently since 2011-12.
Decline in Production:
Crude Oil Production:

Declined by 5.2% as private and public firms produced 30.5 million tonnes in 2020-21 compared to 32.17 million tonnes produced during the same period in 2019-2020.

Natural Gas Production:

Declined by 8.1% and in 2020-21 only 28.67 billion cubic meters was produced compared to 31.18 billion cubic meters in 2019-20.
Reason for Decline:
Most of India's crude oil and natural gas production comes from ageing wells that have become less productive over time.
There is no more easy oil and gas available in India and that producers would have to invest in extracting oil and gas using technologically intensive means from more difficult fields such as ultra deepwater fields.
Crude oil production in India is dominated by two major state-owned exploration and production companies, Oil and Natural Gas Corporation Limited (ONGC) and Oil India.
These companies are the key bidders for hydrocarbon blocks in auctions and were the only successful bidders in the fifth and latest round of auctions under the Open Acreage Licensing Policy (OALP) regime with ONGC bagging seven of the eleven oil and gas blocks on offer and Oil India acquiring rights for the other four.
India's efforts to attract foreign energy giants into hydrocarbon exploration and production haven't been quite fruitful.
The government has asked ONGC to boost its investments in explorations and increase tie-ups with foreign players to provide technological support in extracting oil and gas from difficult oil and gas fields.
The government is also reaching out to major foreign players to convey that the current system of auction and regulation is much more "open and transparent" than before.
Mounting pressure due to climate change is prompting oil and gas players to diversify into clean energy.