S-400 Air Defence Missile System: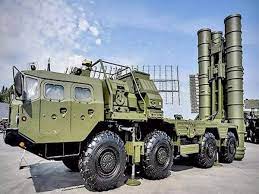 Ukraine recently destroyed a Russian S-400 anti-aircraft system on the Crimean peninsula, which Russia annexed in 2014.
S-400 Air Defence Missile System:
The S-400 Triumf (NATO: SA-21 Growler) is a mobile, surface-to-air missile system.
It is one of the world's most advanced air defence systems that can simultaneously track numerous incoming objects.
It was developed by the Almaz Central Design Bureau of Russia.
The system entered service in April 2007, and the first S-400 was deployed in combat in August 2007.
India signed a US$ 5.5 billion deal with Russia in October 2018 to acquire five S-400 systems.
It is equipped with four different missiles that can engage enemy aircraft, ballistic missiles, and AWACS planes at 400 km and 250 km, medium-range at 120 km, and short-range at 40 km.
The system can simultaneously engage 36 targets.
The system is a large complex of radars, control systems and different types of missiles.
The highly automated S-400 has radars that can pick up an incoming object up to 1,000 kilometres away, track several dozen incoming objects simultaneously and distribute the targets to appropriate missile systems.