India's First Private Space Vehicle Launchpad: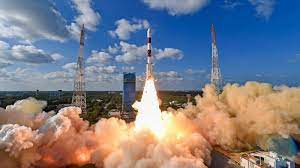 Agnikul Cosmos sets up India's first private space vehicle launchpad at Sriharikota.
The facility, which was designed by Agnikul and executed in support with ISRO and IN-SPACe (Indian National Space Promotion and Authorization Center) has two sections to it:

the Agnikul launchpad (ALP) and
the Agnikul mission control center (AMCC).

All critical systems connecting these two sections, which are 4 km away from each other, are redundant to ensure 100% operationality during countdown.
The launchpad is specifically built keeping in mind the necessity to support liquid stage controlled launches, while also addressing the need for ISRO's range operations team to monitor key flight safety parameters during launches.
Additionally, it has the ability to, as necessary, share data and other critical information with ISRO's Mission Control Center.
Agnikul's first launch, which will be a controlled and guided mission, a vertical launch, using its patented engine will happen from this launchpad.
The mission will be a technology demonstrator that will mirror Agnikul's orbital launch but at a reduced scale.