Indo-Russian Joint Venture Begins Manufacturing AK-203 Assault Rifles In U.P: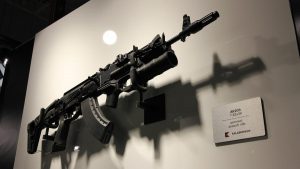 The Indo-Russian Rifles Private Limited (IRRPL), has started producing AK-203 Kalashnikov assault rifles at Korwa in Uttar Pradesh.
The AK-203 rifles are manufactured in a joint venture between India and Russia.
These are high-quality, convenient and modern small arms.
This model combines excellent ergonomics, adaptability to different shooters and high-performance characteristics, it is one of the best assault rifles in the world.
The joint venture plans to ensure 100% localisation of the production of AK-203 rifles in India
Indo-Russian Rifles Private Limited (IRRPL):
The IRRPL was set up in 2019 jointly between erstwhile OFB [now Advanced Weapons and Equipment India Limited (AWEIL) and Munitions India Limited (MIL)] of India and Rosoboronexport and Kalashnikov of Russia.