Inflatable Aerodynamic Decelerator (IAD):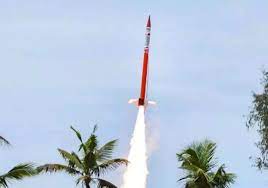 Indian Space Research Organisation (ISRO) has successfully demonstrated a new technology with Inflatable Aerodynamic Decelerator (IAD).
Designed and developed by ISRO's Vikram Sarabhai Space Centre (VSSC), IAD is a game-changer with multiple applications for future missions including to Mars and Venus.
The IAD was successfully test flown in a 'Rohini' sounding rocket from Thumba Equatorial Rocket Launching Station.
Rohini sounding rockets are routinely used for flight demonstration of new technologies being developed by ISRO as well as by scientists from India and abroad.
The IAD was initially folded and kept inside the payload bay of the rocket. At around 84 km altitude, the IAD was inflated and it descended through the atmosphere with the payload part of a sounding rocket.
The IAD has systematically reduced the velocity of the payload through aerodynamic drag and followed the predicted trajectory.