6.1 Magnitude Earthquake Hits New Zealand: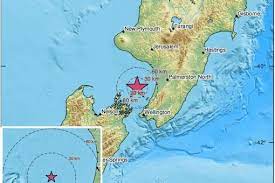 After Cyclone Gabrielle, New Zealand faced yet another disastrous natural calamity.
An earthquake of 6.1 Ritcher shook the country.
The epicentre was at a depth of 57.4 km and 50 km from Paraparaumu.
According to the US Geological Survey, the epicentre was right at the Cook Strait.
The strait divides the two main landmasses of the country. No tsunami warnings were issued.
As Turkey earthquake was caused by the pushing of African and Asian plates against the Eurasian plate.
This means there were significant movements in the African plate.
The Australian plate adjoins the African plate. So does the Indian plate.
Experts believe that the recent Sikkim earthquake and the New Zealand earthquake may have common connections with the Turkey earthquake.