INS Sindhuratna : Reaches India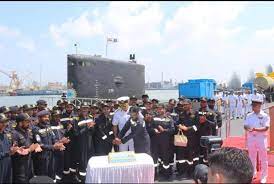 Kilo-class submarine INS Sindhuratna reaches India after major refit in Russia.
INS Sindhuratna (S59) (Jewel of the Sea) is a Sindhughosh-class diesel-electric submarine of the Indian Navy.
Eight of the Navy's diesel-electric submarines are Kilo class or Sindhughosh class from Russia, sourced between 1984 and 2000 and INS Sindhuratna is among the oldest Kilo-class submarines in the fleet.
It was commissioned into the Indian Navy in December 1988.
Sindhughosh-class submarines are Kilo-class diesel-electric submarines in active service with the Indian Navy.
The Kilo Class is the NATO designation for a naval diesel-electric submarine made in Russia.
The Kilo Class submarines are mainly intended for anti-shipping and anti-submarine operations in relatively shallow waters.
The submarines have a displacement of 2,300 tonnes, a maximum diving depth of 300 metres and a top speed of 18 knots.
They are able to operate solo for 45 days with a crew of over 50.