Third In-Person Quad Leaders Summit: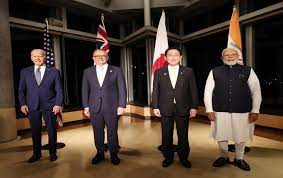 The Prime Minister of India recently participated in the third in-person Quad Leaders' Summit in Hiroshima, Japan
The Quad leaders unequivocally condemned terrorism and violent extremism in all its forms and manifestations including cross-border terrorism.
They also released the ORAN Security Report to support industry investment in open, interoperable and secure telecom platforms. Quad Investors' Network has been launched as a private sector-led platform to facilitate investments in strategic technologies.
Quad Known as the 'Quadrilateral Security Dialogue' (QSD), the Quad is an informal strategic forum comprising four nations, namely — United States of America (USA), India, Australia and Japan. One of the primary objectives of the Quad is to work for a free, open, prosperous and inclusive Indo-Pacific region.
The group met for the first time in 2007 on the sidelines of the Association of Southeast Asian Nations (Asean).
It is considered an alliance of maritime democracies, and the forum is maintained by meetings, semi-regular summits, information exchanges and military drills of all the member countries.