Integrated triservice theatre commands.: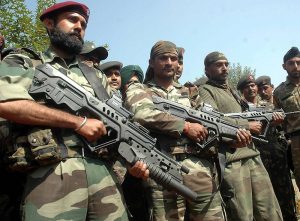 A high-level committee has been formed for the consultations on the creation of integrated triservice theatre commands.
The committee will examine all issues and find a way forward before a formal note on their creation is sent to the Cabinet Committee on Security.
The move was necessitated due to some aspects like bringing in paramilitary forces (which is under Home Ministry) under the purview of the theatre commands and financial implications that may arise in the process of integration.
The proposed Air Defence Command plans to integrate all air assets of the armed forces while the Maritime Theatre Command plans to bring in all assets of Navy, Coast Guard as well as coastal formations of Army and Air Force under one umbrella.
On land, the Army's Northern Command and Western Command would be converted into 2-5 theatre commands.
Integrated Theatre Command:
An integrated theatre command envisages a unified command of the three Services, under a single commander, for geographical theatres (areas) that are of strategic and security concern.
The commander of such a force will be able to bear all resources at his disposal — from the Army, the Indian Air Force, and the Navy — with seamless efficacy.
The integrated theatre commander will not be answerable to individual Services.
Integration and jointness of the three forces will avoid duplication of resources. The resources available under each service will be available to other services too.
The Shekatkar committee (in 2015) had recommended the creation of 3 integrated theatre commands — northern for the China border, western for the Pakistan border, and southern for the maritime role.