Iran And Belarus To Be The Newest SCO Members: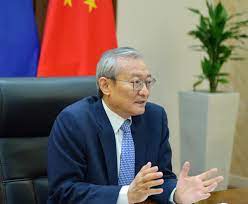 Iran and Belarus are likely to be the two newest additions to the China and Russia-backed Shanghai Cooperation Organization (SCO)
India will host the SCO summit next year, and Varanasi has been selected as the SCO region's first "Tourism and Cultural Capital".
Key Highlights:
Iran to become a member and call on Belarus's membership: Iran will become a full member after completing the formalities while Shanghai Cooperation Organization (SCO) member states who follow the system of consensus in deciding admission of new members will take a call on Belarus's application.
First expansion after 2017: This is the first expansion of the SCO after India and Pakistan were admitted to the grouping in 2017.
China and Russia are looking to frame the grouping as a counter to the West — particularly after Russia's invasion of Ukraine.
The significance of this round of expansion is that it shows SCO's rising international influence and that the principles of the SCO charter are widely accepted, Secretary General SCO Zhang Ming said.
The expansion of NATO is totally different as the SCO is a cooperative organization based on non-alignment and not targeting a third party, while NATO is based on Cold War thinking
The SCO believes one should not build its security at the expense of other countries while NATO is creating new enemies to sustain its own existence.
The SCO member states are thinking of how to adapt to the profound changes that the international situation is undergoing so as to make the international order fairer and more reasonable.
Samarkand summit is expected to have agreements on connectivity and high-efficiency transport corridors and a roadmap for local currency settlement among member states.