PARAM Ganga: A Supercomputer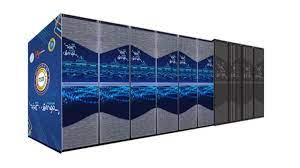 The National Supercomputing Mission (NSM) has deployed "PARAM Ganga", a supercomputer at IIT Roorkee, with a supercomputing capacity of 1.66 Petaflops.
The system is designed and commissioned by C-DAC under Phase 2 of the build approach of the NSM.
The National Supercomputing Mission (NSM) is being steered jointly by Ministry of Electronics & Information Technology (MeiTY) and the Department of Science and Technology (DST) and implemented by Centre for Development of Advanced Computing (C-DAC) and Indian Institute of Science (IISc), Bangalore.
The four major pillars of the NSM are, namely, Infrastructure, Applications, R&D, HRD.
C-DAC has been entrusted the responsibility to design, development, deployment and commissioning of the supercomputing systems under the build approach of Mission.
Till now C-DAC has deployed 11 systems at IISc, IITs, IISER Pune, JNCASR, NABI-Mohali and C-DAC under NSM Phase-1 and Phase-2 with a cumulative compute power of more than 20 Petaflops.