The 2003 Ceasefire Agreement: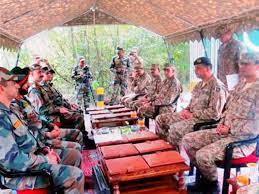 India and Pakistan troops are reported to have exchanged fire briefly along the Line of Control (LoC) in Jammu and Kashmir's Kupwara district.
This is the first violation along the Kashmir Valley section of the de facto border since February this year.
India and Pakistan, in February 2021, issued a joint statement to strictly observe the 2003 Ceasefire agreement along the Line of Control(LoC).
The ceasefire agreement was reached in November 2003, four years after the Kargil War.
On November 26, 2003 the ceasefire took effect along the entire stretch of the India-Pakistan frontier.
It facilitated the opening of the Srinagar-Muzaffarabad and Poonch-Rawalkot routes, paving the way for bus and truck services linking the two Kashmirs for the first time in six decades and encouraging cross-LoC contacts, exchanges, travel, and trade.
The ceasefire also enabled India to complete the construction of a fence near the LoC to prevent Pakistan's infiltration of terrorists into Kashmir, a project that it had begun a couple of decades earlier but had to suspend due to Pakistan's artillery fire.
The 2003 ceasefire agreement remains a milestone as it brought peace along the LoC until 2006. Between 2003 and 2006, not a single bullet was fired by the jawans of India and Pakistan.
But since 2006, ceasefire violations have become the norm with increasing frequency. Recent years have seen an increasing number of ceasefire violations despite an agreement reached in 2018 to adhere to the 2003 ceasefire agreement.