Kilauea Volcano : Erupted Recently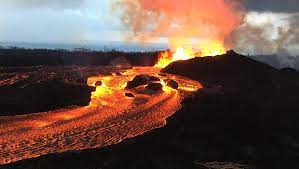 The Kilauea volcano on Hawaii's Big Island erupted recently, according to an advisory from the U.S. Geological Survey (USGS).
Kilauea Volcano is the youngest and most active Hawaiian shield volcano, located on the southern part of the Island of Hawaii, known as Big Island.
It is near-constantly erupting from vents either on its summit (caldera) or on the rift zones.
Kilauea has a large summit caldera with a central crater, Halemaumau, which is according to Hawaiian legends the home of the fire goddess Pele.
Shield volcanoes are a type of volcano that tend to erupt basalt lava, a type of lava that is very fluid when erupted.
Although shield volcanoes are the largest volcanoes on Earth, they do not form soaring mountains with conical peaks like composite volcanoes.