Konark Sun Temple To Run On Solar Energy: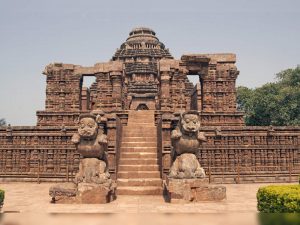 Konark is going to be the first model town in Odisha to shift from grid dependency to green energy.
The Odisha government has issued a policy guideline in this regard.
In May 2020, the central government launched a scheme for solarisation of Konark Sun Temple and Konark town in Odisha.
Under the guidelines, the state has targeted to generate 2,750 megawatt (MW) from renewable energy sources like the sun, wind, biomass, small hydro and waste-to-energy (WTE), etc. by 2022-end.
The state also targets to generate 2,200 MW from solar energy and a part of it will be utilised to run the Sun Temple and Konark town on solar energy.
Konark's transition to renewable energy is part of an ambitious plan by the Union Ministry of New and Renewable Energy (MNRE).
Konark Sun Temple:
It located in the East Odisha near the sacred city of Puri.
Built in the 13th century by King Narasimhadeva I (AD 1238-1264). Its scale, refinement and conception represent the strength and stability of the Eastern Ganga Empire as well as the value systems of the historic milieu.
The Eastern Ganga dynasty also known as Rudhi Gangas or Prachya Gangas.
It was the large Indian royal dynasty in the medieval era that reigned from Kalinga from as early as the 5th century to the early 15th century.
The beginnings of what became the Eastern Ganga dynasty came about when Indravarma I defeated the Vishnukundin king.
The temple is designed in the shape of a colossal chariot.
It is dedicated to the sun God.
The Konark temple is widely known not only for its architectural grandeur but also for the intricacy and profusion of sculptural work.
It marks the highest point of achievement of Kalinga architecture depicting the grace, the joy and the rhythm of life in all its wondrous variety.
It was declared a UNESCO world heritage site in 1984.