Belagavi: Disputed Border Area Between Maharashtra And Karnataka: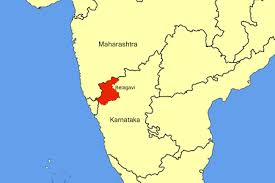 Maharashtra Chief Minister said the disputed border area between Maharashtra and Karnataka should be made an Union Territory until the matter is heard by the Supreme Court. This sparked off a strong reaction in Karnataka.
Maharashtra has been claiming that Belagavi, Karwar, and Nipani should be the part of that State as they are Marathi-speaking areas.
The erstwhile Bombay Presidency, a multilingual province, included the present-day Karnataka districts of Bijapur, Belgaum, Dharwar, and Uttara-Kannada (previously North Kanara).
The Belagavi/Belgaum region at the border of Maharashtra and Karnataka comprises both Kannada and Marathi speakers.
In 1948, the Belgaum municipality requested that the district, having a predominantly Marathi-speaking population, be incorporated into the proposed Maharashtra state.
However, the States Reorganisation Act of 1956, which divided states into linguistic and administrative lines, made Belgaum a part of the then Mysore State (which was renamed Karnataka in 1973).
The area has been under dispute since then. The Maharashtra Ekikaran Samiti, formed in 1948, has been fighting for a merger of 800-odd villages in Karnataka with Maharashtra.
In 2014, the Karnataka government renamed Belgaum as Belagavi.