EUBOEA: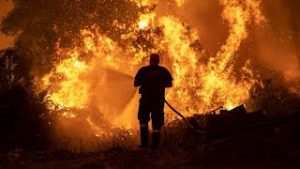 Wildfires are continuing to rip through the Greek island of Evia with strong winds driving flames towards villages. Greece is experiencing its most severe heatwave in 30 years in which temperatures have spiked to 45C.
Euboea or Evia is the second-largest Greek island in area and population, after Crete.
It is separated from Boeotia in mainland Greece by the narrow Euripus Strait.
Euboea was believed to have originally formed part of the mainland, and to have been separated from it by an earthquake.
This is fairly probable, because it lies in the neighbourhood of a fault line.