World Cities Day 2022: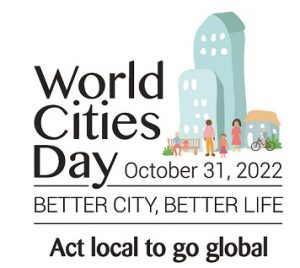 World Cities Day is celebrated on 31st October every year to highlight the need for international cooperation to promote global urbanisation and address its challenges.
According to the United Nations, seven of every 10 people in the world will live in cities by 2050.
Theme for 2022: Act Local to Go Global.
On 27th December 2013, the United Nations General Assembly (UNGA) established World Cities Day through a resolution.
The first celebration took place in 2014.
The second United Nations Conference on Human Settlements in 1976 influenced the UNGA's decision to establish World Cities Day.
The UN-Habitat programme promotes the development of sustainable cities in line with SDG 11 goals.
The United Nations Human Settlements Programme (UN-Habitat) is the United Nations agency for human settlements and sustainable urban development.
It conducts the annual Urban October programme for this purpose which begins on the first Monday of the month and ends on 31st October with World Cities Day.