Virtually Launch Of 'Mahabahu-Brahmaputra' Initiative In Assam: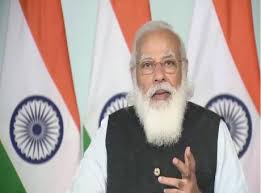 Prime Minister Narendra Modi will virtually launch the 'Mahabahu-Brahmaputra' initiative in Assam on February 18, 2021.
Highlights
He will lay the foundation stone for the Dhubri Phulbari bridge.
PM will also perform the bhumi pujan for the construction of the Majuli Bridge in Assam.
PM while announcing the details stated that it will be a landmark day in the development journey for Assam as the Mahabahu-Brahmaputra initiative is going to be launched.
Mahabahu-Brahmaputra initiative:
Launch of the Mahabahu-Brahmaputra initiative is going to be marked with the inauguration of the Ro-Pax vessel operations.
The Ro-Pax vessel operations will be launched in between the Neamatighat & Majuli, Dhubri-Hatsingimari and North-South Guwahati.
This initiative also includes the inauguration of the Inland Water Transport Terminal at Jogighopa.
The initiative will also be marked with the inauguration of various tourist jetties at four locations in order to promote river tourism and employment across the state.
This initiative is being started with the aim to provide seamless connectivity to Eastern Parts of India.
It also comprises of various development activities for people living across the Barak and Brahmaputra rivers.