Maitri Setu : India-Bangladesh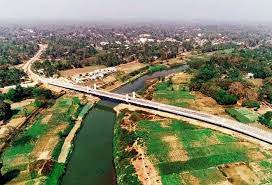 India-Bangladesh friendship bridge, the Maitri Setu, is all set to be functional soon.
Maitri Setu has been built over the Feni River, which flows between the Indian boundary in Tripura and Bangladesh.
It spans 1.9 kilometres joining Sabroom (in Tripura) with Ramgarh in Bangladesh.
The name 'Maitri Setu' symbolises growing bilateral relations and friendly ties between India and Bangladesh.
The construction of the bridge has been overseen by National Highways and Infrastructure Development Corporation Ltd.
It is a pre-stressed concrete bridge.
It has a single-span structure that allows for the smooth flow of traffic and cargo.
Feni River:
It forms part of the India-Bangladesh border.
It originates in the South Tripura district, passes through Sabroom town on the Indian side, and meets the Bay of Bengal after it flows into Bangladesh.
It is 116 kilometres in length from its source to the Bay of Bengal.
Some of the notable tributaries of the Feni River include the Muhuri River, Raidak River, Chandkhira River, Ryang River and Kushiyara River.