National Mission On Sustaining Himalayan Ecosystem (NMSHE):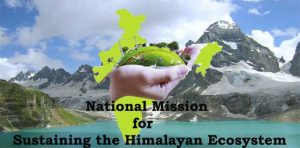 Scientists, with support from the National Mission on Sustaining Himalayan Ecosystem (NMSHE) Programme, have been able to disseminate available scientific information to the farmers to enable sustainable and climate-resilient agriculture in the Leh region.
NMSHE is one of the eight missions under the National Action Plan on Climate Change (NAPCC).
Key Points
It was launched in 2010 but was formally approved by the government in 2014.
It is a multi-pronged, cross-cutting mission across various sectors.
It contributes to the sustainable development of the country by enhancing the understanding of climate change, its likely impacts, and adaptation actions required for the Himalayas- a region on which a significant proportion of India's population depends for sustenance.
States Covered:
Eleven states: Himachal Pradesh, Uttarakhand, Sikkim, Arunachal Pradesh, Nagaland, Manipur, Mizoram, Tripura, Meghalaya, Assam, and West Bengal.
Two Union Territories: Jammu and Kashmir and Ladakh.