Sangeet Natak Akademi Amrit Awards: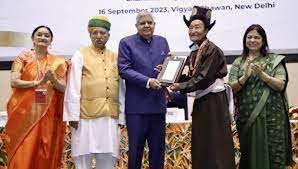 Vice President Jagdeep Dhankhar presented the one-time Sangeet Natak Akademi Amrit Awards to 84 artists from varied fields of performing arts.
Sangeet Natak Akademi Amrit Awards is a national honour bestowed on performing artists as well as teachers and scholars in the field of performing arts.
The recipients are selected by the Akademi's General Council.
The Akademi's General Council consisted of distinguished musicians, dancers, theatre artists and scholars in these disciplines and nominees of the Government of India, state governments, and Union Territories.
The honour carries a purse money of Rs. 1,00,000/- (Rupees one lakh) besides a Tamrapatra and Angavastram.
The award was constituted to honour Indian artists aged above 75 years who have not been accorded any national honour in their career so far.
Sangeet Natak Akademi:
It is India's national academy of music, dance and drama.
It was created by a resolution of the Ministry of Education, with P.V. Rajamannar as its first Chairman.
It was set up in 1953 for the preservation and promotion of the vast intangible heritage of India's diverse culture expressed in forms of music, dance and drama.
Presently, it is an Autonomous Body of the Ministry of Culture.
The Chairman of the Akademi is appointed by the President of India for a term of five years.
It is fully funded by the Government for the implementation of its schemes and programmes.