Vokkaligas, Lingayats Share In Reservation: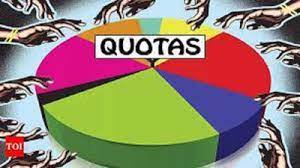 Karnataka has categorized the two dominant communities, Vokkaligas and Lingayats, as "moderately backward" from the "backward" category in a move that could increase their share in reservation for Other Backward Classes (OBC).
Karnataka currently has 32% quota for OBC, and 17% and 7% quota for Scheduled Castes and Scheduled Tribes, respectively, taking the total to 56%.
The Panchamasali sub-sect of Veerashaiva Lingayats has demanded inclusion in the 2A category which has 15% quota from their current 3B category which has 5% quota.
The Cabinet's decision is based on the recommendations of the Karnataka State Commission for Backward Classes
The Vokkaliga community, which is currently in the 3A category, will be moved to a newly-created 2C category with 4% reservation.
And the Lingayat community, which is in the 3B category, will now be in a new 2D category with 5% reservation.
The Cabinet decision ensures that there is no sub-categorisation of the Lingayat community.
The Lingayats are a dominant community who make up nearly 17% of Karnataka's six crore population- followed by Vokkaligas.
The new categories will not affect the existing reservation provided to other communities.
The reservation will be applicable only in education and jobs, and "not political reservation.
Lingayats:
The term Lingayat denotes a person who wears a personal linga, an iconic form of god Shiva, on the body which is received during the initiation ceremony.
Lingayats are the followers of the 12th-century social reformer-philosopher poet, Basaveshwara.