Mission For The Welfare Of Particularly Vulnerable Tribal Groups: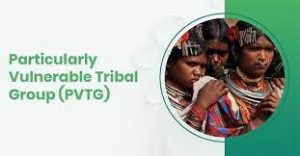 Union Finance Minister recently announced a mission for the welfare of Particularly Vulnerable Tribal Groups (PVTGs) in the 2023-24 Union Budget.
Pradhan Mantri PVTG Development mission will be launched as part of 'Reaching The Last Mile', one of the seven Saptarishi priorities enlisted in this year's Budget.
The mission will saturate the particularly vulnerable tribal groups with safe housing, clean drinking water, education, nutrition, road and telecom connection and livelihood.
A Budget of Rs 15,000 crore will be dedicated to this mission in the next three years.
The scheme will benefit 3.5 lakh tribals.
Saptarishi priorities (seven priorities) enlisted in the 2023-24 budget:
Inclusive Development
Reaching the Last Mile
Infrastructure and Investment
Unleashing the Potential
Green Growth
Youth Power
Financial Sector
PVTG (Particularly Vulnerable Tribal Groups):
PVTGs are more vulnerable among the tribal groups who are in need of greater support and development.
Out of the 705 Scheduled Tribes in India, 75 have been identified as PVTGs and are spread across 17 states and one Union Territory.
Government of India follows the following criteria for identification of PVTGs

Pre-agricultural level of technology
Low level of literacy
Economic backwardness
A declining or stagnant population.