Udyog Aadhaar Memorandum: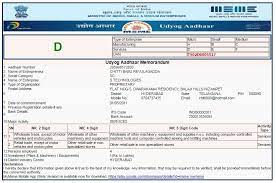 Ministry of Micro, Small and Medium Enterprises Extends Validity of Udyog Aadhaar Memorandum from 31st March, 2021 to 31st December, 2021.
The Ministry for MSME in September 2015 notified Udyog Aadhaar to ensure ease of registration and wider coverage of MSMEs to avail the benefits under various Schemes of Central/ State governments.
Udyog Aadhaar Memorandum (UAM) can be filled online on the portal created by Ministry of MSME.
UAM is a one-page registration form which constitutes a self-declaration format under which the MSME will self-certify its existence, bank account details, promoter/owner's Aadhaar details and other minimum information required.
There shall be no fee for filing the Udyog Aadhaar Memorandum. On submission of the form, Udyog Aadhaar Acknowledgement shall be generated and mailed to the email address provided in the Udyog Aadhaar Memorandum which shall contain unique Udyog Aadhaar Number (UAN).