Particularly Vulnerable Tribal Groups PVTGs: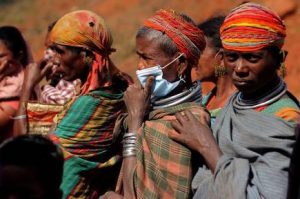 With the second wave of COVID-19 sweeping across the rural heartland of Odisha, infections are being reported among the Particularly Vulnerable Tribal Groups (PVTGs).
As many as 21 tribals across eight different PVTGs in the State have so far tested positive, including two from the Bonda tribe, known for its secluded lifestyle. Bonda people live in highlands, 3,500-feet above sea level, in Malkangiri, the southernmost district of Odisha.
Four members of Dongria Kondh, another PVTG, have tested positive in Parasali panchayat of Kalyansinghpur block in Rayagada district.
Odisha has among the largest and most diverse tribal populations in the country.
Of the 62 tribal groups residing in Odisha, 13 are recognized as PVTGs.
According to the 2011 Census, Odisha's share of the country's total tribal population was 9%.
Tribals constitute 22.85% of the State's population.
The PVTGs in the states are Bonda, Birhor, Chuktia Bhunjia, Didayi, Dongaria Kandha, Hill Kharia, Juang, Kutia Kondh, Lanjia Saora, Lodha, Mankirdia, Paudi Bhuyan and Saora.
These PVTGs have been identified on the basis of stagnant or diminishing populations, subsistence level of the economy associated with pre-agricultural stages of hunting, food gathering and shifting cultivation, and relative physical isolation.