Mo Jungle Jami Yojana : Odisha Government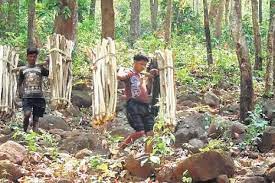 The Odisha government has introduced the Mo Jungle Jami Yojana, a scheme aimed at bolstering forest rights among tribals and forest dwellers across the state's districts.
Odisha will become the first state in India to recognize community forest rights in addition to individual rights offered by the central government.
The scheme aims to ensure livelihood and food security for the Scheduled Tribe and forest dwelling population by granting ownership of land and access to forest resources to the beneficiaries in accordance with their entitlements.
Odisha has a significant number of villages and Scheduled Tribe families that are targeted to benefit from the scheme.
With 62 different tribes, including 13 Particularly Vulnerable Tribal Groups (PVTGs), the state's tribal population accounts for 22.85% of the overall population.