Mount Nyaragongo: Erupted Again: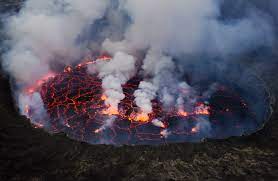 As the active volcano in Congo, Mount Nyaragongo, erupted again, the Indian Army contingent under the United Nations peacekeeping mission (MONUSCO) assisted in protecting civilians and U.N. officials as well as assets during the evacuation.
Mount Nyiragongo is an active stratovolcano with an elevation of 3,470 m in the Virunga Mountains associated with the Albertine Rift.
It is located inside Virunga National Park, in the Democratic Republic of the Congo, about 12 km north of the town of Goma and Lake Kivu.
The main crater is about two kilometers (1 mi) wide and usually contains a lava lake. Nyiragongo's lava lake has at times been the most voluminous known lava lake in recent history.
Nyiragongo and nearby Nyamuragira are together responsible for 40 percent of Africa's historical volcanic eruptions.
Lava lakes are large volumes of molten lava, usually basaltic, contained in a volcanic vent, crater, or broad depression.