Remission Of Duties And Taxes On Export Products (RoDTEP) Scheme: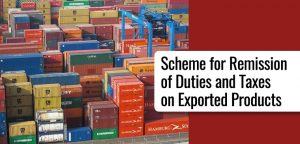 The government had left out sectors such as iron and steel, chemicals and pharmaceuticals, from the Remission of Duties and Taxes on Export Products (RoDTEP) scheme.
These sectors were omitted from the scheme, as iron and steel were 'already booming' and the pharma industry's business had also increased during the pandemic.
RoDTEP Scheme:
The RoDTEP scheme would refund to exporters the embedded central, state and local duties or taxes that were so far not been rebated or refunded and were, therefore, placing India's exports at a disadvantage.
The rebate under the scheme would not be available in respect of duties and taxes already exempted or remitted or credited.
It was started in January 2021 as a replacement for the Merchandise Export from India Scheme (MEIS), which was not compliant with the rules of the World Trade Organisation.
The MEIS scheme provided additional benefits of 2% to 7% on the Freight On Board (FOB) value of eligible exports.
For garment exporters, the Rebate of State and Central Levies and Taxes (RoSCTL) Scheme has been notified separately.
The tax refund rates range from 0.5% to 4.3% for various sectors.
The rebate will have to be claimed as a percentage of the Freight On Board value of exports.
Rebates will be issued in the form of a transferable duty credit/ electronic scrip (e-scrip) which will be maintained in an electronic ledger by the Central Board of Indirect Taxes and Customs (CBIC).