National Service Scheme (NSS) Awards: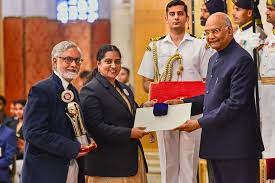 The President of India conferred the National Service Scheme (NSS) Awards for 2019-20.
Under NSS Awards 2019-20, 42 awardees in different categories such as University or (+2) Councils, NSS Units and their programme officers and NSS volunteers were conferred with these awards.
The NSS Awards were instituted by the Ministry of Youth Affairs and Sports in 1993-94 on the occasion of the Silver Jubilee Year of National Service Scheme.
It recognises and rewards outstanding contributions towards voluntary community service made by universities or colleges, councils, senior secondary, NSS units and programme officers and NSS volunteers to further promote NSS in the country.
Objectives:

To encourage young NSS student volunteers to develop their personality through community service.
To encourage the Programme Officers and the Programme Coordinators of NSS for catering the needs of NSS through the NSS volunteers.
To motivate NSS Volunteers for continuing their selfless service towards community work.
National Service Scheme:
NSS is a Central Sector Scheme that was launched in 1969 with the objective of developing the personality and character of the student youth through voluntary community service. The ideology of NSS is inspired by the ideals of Mahatma Gandhi.
Its Motto is Not me but You.
They work on issues of social relevance through regular and special camping activities – including literacy and education, health, family welfare and nutrition, environment conservation, social service programmes, programmes for the empowerment of women, programmes connected with economic development activities, rescue and relief during calamities, etc.