Attorney General::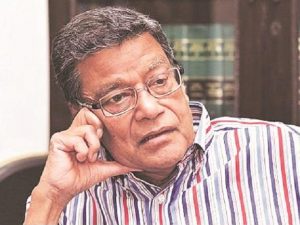 The central government has extended the term of K.K. Venugopal as Attorney General (AG) for one more year.
This is the second time the Centre has extended his tenure. Venugopal received his first extension of term in 2020.
Venugopal was appointed the 15th AG of India in 2017. He succeeded Mukul Rohatgi who was AG from 2014-2017.
He would be in command of the government's legal defence in several sensitive cases pending in the Supreme Court, which includes the challenge to the abrogation of Article 370 of the Constitution and the Citizenship Amendment Act.
The Attorney General (AG) of India is a part of the Union Executive. AG is the highest law officer in the country.
Article 76 of the Constitution provides for the office of AG of India.
Appointment and Eligibility:
AG is appointed by the President on the advice of the government.
S/he must be a person who is qualified to be appointed a judge of the Supreme Court, i.e. s/he must be a citizen of India and must have been a judge of some high court for five years or an advocate of some high court for ten years or an eminent jurist, in the opinion of the President.
Term of the Office: Not fixed by the Constitution.
Removal: Procedures and grounds for the removal of AG are not stated in the Constitution. S/he holds office during the pleasure of the President (may be removed by the President at any time).
Duties and Functions:
To give advice to the Government of India (GoI) upon such legal matters, which are referred to her/him by the President.
To perform such other duties of a legal character that are assigned to her/him by the President.
To appear on behalf of the GoI in all cases in the Supreme Court or in any case in any High Court in which the GoI is concerned.
To represent the GoI in any reference made by the President to the Supreme Court under Article 143 (Power of the President to consult the Supreme Court) of the Constitution.
To discharge the functions conferred on her/him by the Constitution or any other law.