New Project In Sri Lanka By China: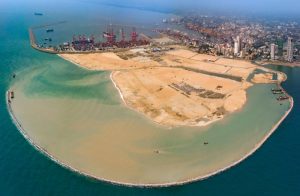 A Chinese company has won a contract to set up hybrid wind and solar energy projects on three Sri Lankan islands off the northern Jaffna peninsula 45 km from Rameswaram in Tamil Nadu.
Asian Development Bank (ADB) will fund the project, which will come up on Delft, Nainativu, and Analativu, three islands in the Palk Strait off the Jaffna peninsula.
Delft, the largest of the three islands, is the closest to Rameswaram, Tamil Nadu, which lies to the island's south west.
Between the two is Kachchativu, the tiny island that India ceded to Sri Lanka in 1974.
The waters around these islands are an area of contest and rivalry between Tamil Nadu and Jaffna fishers.
The matter has been on the bilateral agenda for decades.
India and Sri Lanka agreed to set up a Joint Working Group (JWG) on Fisheries in 2016 between the Ministry of Agriculture and Farmers Welfare of India and Ministry of Fisheries and Aquatic Resources Development of Sri Lanka as the mechanism to help find a permanent solution to the fishermen issue.