New India Literacy Programme: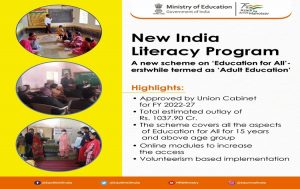 The Union of India has approved a Centrally Sponsored Scheme, namely, "New India Literacy Programme (NILP)".
The NILP has been approved for the next five financial years (2022-27) in order to integrate all the aspects of adult education with the National Education Policy, 2020 (NEP).
The Education ministry has chosen to use 'Education for All' rather than 'Adult Education,' since the previous terminology was not applicable to non-literates aged 15 and above.
It aims to support the States and Union Territories in promoting literacy among non-literates in the age group of 15 and above.
It will cover across the country covering 5 crore non-literates during the implementation period from 2022-23 to 2026-27.
The scheme has been approved with a financial outlay of Rs.1037.90 crore including Central share of Rs.700.00 crore and State share of Rs.337.90 crore.
Features of the NILP are:
Involvement of school students, pre-service students of Higher Education Institutions (HEIs), school teachers, Anganwadi and ASHA workers.
School to be unit for implementation of the scheme.
Use of ICT and online implementation of the scheme through 'Online Teaching Learning and Assessment System' (OTLAS) material and resources through digital modes, viz, TV, radio, cell phone-based free/open-source Apps/portals, etc.
The scheme will be implemented through volunteerism through online mode.
The training, orientation, workshops of volunteers, may be organized through face-to-face mode. All material and resources shall be provided digitally.
School will be Unit for implementation of the scheme.
Schools to be used for conducting surveys of beneficiaries and Voluntary Teachers.