Olive Ridley Turtles: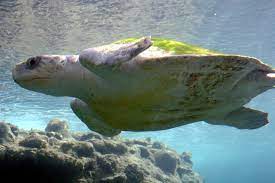 Researchers of the Zoological Survey of India (ZSI) are carrying out tagging of the Olive Ridleys at three mass nesting sites — Gahirmatha, Devi River mouth and Rushikulya.
The tagging would help them identify the migration path and places visited by the marine reptiles after congregation and nesting.
The Olive ridley turtles are the smallest and most abundant of all sea turtles found in the world.
They inhabit warm waters of the Pacific, Atlantic and Indian oceans.
These turtles, along with their cousin the Kemps ridley turtle, are best known for their unique mass nesting called Arribada, where thousands of females come together on the same beach to lay eggs.
Rushikulya rookery coast in the Ganjam district of Odisha, Gahirmatha beach and the mouth of the Debi River, are the major nesting sites in Odisha.
IUCN status: Vulnerable.
Every year, the Indian Coast Guard's "Operation Olivia", initiated in the early 1980s, helps protect Olive Ridley turtles as they congregate along the Odisha coast for breeding and nesting from November to December.