One Web's LEO Internet Programme: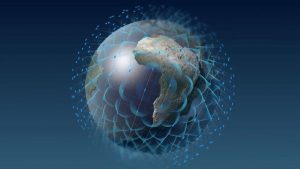 OneWeb is considering options to remove one of its broadband satellites from low Earth orbit after it failed following a software issue last year.
So far, OneWeb has deployed 358 satellites at 1,200 kilometers through 11 launches.
OneWeb has a partnership formed earlier this year with debris-removal startup Astroscale under ESA's Sunrise program.
About OneWeb's LEO internet programme:
OneWeb is a Low Earth Orbit (LEO) satellite communications operator.
Using LEO satellites OneWeb seeks to offer connectivity across the UK, Alaska, Northern Europe, Greenland, the Arctic Seas and Canada.
The company expects the service to be switched on before the end of the year.
It calls this programme the 'Five to 50' service of offering internet connectivity to all regions north of 50 degrees latitude.
LEO satellites are positioned around 500km-2000km from earth, compared to stationary orbit satellites which are approximately 36,000km away.
As LEO satellites orbit closer to the earth, they are able to provide stronger signals and faster speeds than traditional fixed-satellite systems.
Because signals travel faster through space than through fibre-optic cables, they also have the potential to rival if not exceed existing ground-based networks.
LEO satellites travel at a speed of 27,000 kph and complete a full circuit of the planet in 90-120 minutes.
As a result, individual satellites can only make direct contact with a land transmitter for a short period of time thus requiring massive LEO satellite fleets and consequently, a significant capital investment.