Ottan Thullal : Dance Art Form Of Kerala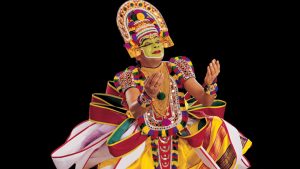 Ottan Thullal is a recite-and-dance art form of Kerala, India. It was introduced in the eighteenth century by Kunchan Nambiar, one of the Prachina Kavithrayam
Seen at temple festivals and cultural programs, these performances use elaborate expressions and stories recited in verses to bring important mythological tales and stories to life.
It is epitomized by humor, satire, and social criticism
The costume and makeup of the performer are similar to that of a Kathakali artist
The thullal performer is supported by a singer who repeats the verses and is accompanied by an orchestra of mridangam or thoppimaddalam (percussions) and cymbals.
It has spawned into three separate versions which include- Ottanthullal, Seethankan thullal and Parayan thullal.