Overseas Citizens Of India (OCI):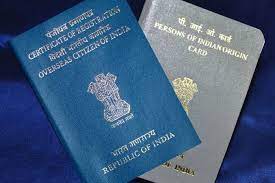 People of Indian origin and the Indian diaspora having Overseas Citizens of India (OCI) cards will not have to carry their old, expired passports for travel to India, as was required earlier, according to a government notification.
OCI cardholders:
The government of India launched the 'Overseas Citizenship of India (OCI) Scheme' by making amendments to Citizenship Act, 1955 in 2005.
On 09 January 2015, the Government of India discontinued the PIO card and merged it with the OCI card.
The government of India allows the following categories of foreign nationals to apply for OCI Card.
Benefits for OCI cardholders:
Lifelong Visa to visit India multiple times. (special permission needed for research work in India).
No need to register with Foreigners Regional Registration Officer (FRRO) or Foreigners Registration Officer (FRO) for any length of stay.
Except for the acquisition of agricultural and plantation properties, OCI cardholders have similar facilities that are extended to NRIs in economic, financial, and educational fields.
Same treatment as of NRIs in respect to Inter-country adoption of Indian children.
Also treated at par with NRIs regarding – entry fees for national monuments, the practice of professions like doctors, dentists, nurses, advocates, architects, Chartered Accountants & Pharmacists.
At par with NRIs to participate in All India Pre-medical tests and such.
Treated at par with Indian citizens in matters of traffic in airfares in Indian domestic sectors.
Same entry fee as for Indians for entry into India's national parks and wildlife sanctuaries.
OCI booklet can be used as identification to avail services. An affidavit can be attached with the local address as residential proof.