Rights Of The Overseas Citizens Of India (OCI):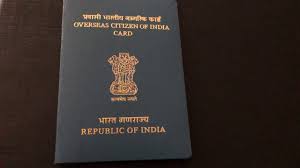 The government has notified a consolidated list of rights of the Overseas Citizens of India (OCI).
The rights and restrictions are not new, they have been notified previously in 2005, 2007, and 2009. They were also mentioned in an OCI brochure published by the Ministry of Home Affairs in November 2019.
OCI cardholders will be entitled to get multiple entry lifelong visas for visiting India for any purpose.
OCI cards would need prior permission for a set of activities that include research, journalism, mountaineering, missionary or Tablighi work, and visits to restricted areas.
OCI cardholders will enjoy parity with NRIs in the adoption of children, appearing in competitive exams, purchase or sale of immovable property barring agricultural land and farmhouses, and pursuing professions such as doctors, lawyers, architects, and chartered accountants.
They have parity with Indian nationals in the matter of domestic airfares, entry fees to monuments and public places.
OCIs can appear for all-India entrance tests such as National Eligibility cum Entrance Test (NEET), Joint Entrance Examination (Mains), Joint Entrance Examination (Advanced), or such other tests to make them eligible for admission only against any NRI seat or any supernumerary seat.
The OCI cardholder shall not be eligible for admission against any seat reserved exclusively for Indian citizens.