Padma Awards 2021: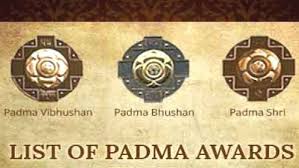 This year the President has approved the conferment of 119 Padma Awards including 1 duo case (in a duo case, the award is counted as one) as per list below.
The list comprises 7 Padma Vibhushan, 10 Padma Bhushan, and 102 Padma Shri Awards. 29 of the awardees are women and the list also includes 10 persons from the category of Foreigners/NRI/PIO/OCI, 16 Posthumous awardees and 1 transgender awardee.
Padma Vibhushan (7)
Shinzo Abe (Japan) – Public Affairs
S P Balasubramaniam (Posthumous) – Art
Belle Monappa Hegde – Medicine
Narinder Singh Kapany (Posthumous) – Science and Engineering
Maulana Wahiduddin Khan – Others: Spiritualism
B. Lal – Others: Archaeology
Sudarshan Sahoo – Art
Padma Bhushan (10)
Krishnan Nair Shantakumari Chithra – Art
Tarun Gogoi (Posthumous) – Public Affairs
Chandrashekhar Kambara – Literature and Education
Sumitra Mahajan – Public Affairs
Nripendra Misra – Civil Service
Ram Vilas Paswan (Posthumous) – Public Affairs
Keshubhai Patel (Posthumous) – Public Affairs
Kalbe Sadiq (Posthumous) – Others: Spiritualism
Rajnikant Devidas Shroff – Trade and Industry
Tarlochan Singh – Public Affairs
Padma Awards are one of the highest civilian Awards of the country conferred in three categories, namely –
Padma Vibhushan: For Exceptional and distinguished service.
Padma Bhushan: For Distinguished service of high order.
Padma Shri: For distinguished service in any field.
Disciplines in which awarded: It is given for distinguished and exceptional achievements/service in all fields of activities/disciplines.
Eligibility: All persons without distinction of race, occupation, position or sex are eligible for these awards. However, Government servants including those working with PSUs, except doctors and scientists, are not eligible for these Awards.
Timeline: The awards are announced on the occasion of Republic Day every year. These awards are conferred by the President of India at ceremonial functions which are held at Rashtrapati Bhawan usually around March/ April every year.
Award committee:
The nomination process is open to the public. Even self-nomination can be made.
All nominations received for Padma Awards are placed before the Padma Awards Committee headed by the Cabinet Secretary, which is constituted by the PM every year.
The recommendations of the committee are submitted to the PM and the President for approval.
The awardees have then presented a certificate and a medallion.
The recipients are also given a small replica of the medallion, which they can wear during any ceremonial/State functions etc., if the awardees so desire.
The award does not amount to a title and cannot be used as a suffix or prefix to the awardees' name.
The total number of awards to be given in a year (excluding posthumous awards and to NRI/foreigners/OCIs) should not be more than 120.
The award is normally not conferred posthumously. However, in highly deserving cases, the Government could consider giving an award posthumously.
A higher category of Padma award can be conferred on a person only after a gap of five years. However, in highly deserving cases, a relaxation can be made by the Awards Committee.