February 23: 'Pagri Sambhal Diwas':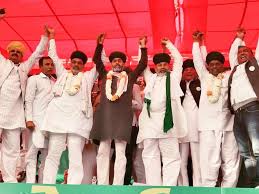 As part of the ongoing farmers' protest, the Samyukta Kisan Morcha (SKM) is celebrating February 23 as 'Pagri Sambhal Diwas', where it has asked supporters across the globe to wear a green pagri/dupatta and post their pictures on social media, with the hashtag 'Go green for farmers'.
The farmers are also honouring the memory of Ajit Singh, uncle of freedom fighter Bhagat Singh and founder of the Pagri Sambhaal movement of 1907.
Pagrhi Sambhaal Jatta was a successful farm agitation that forced the British government to repeal three laws related to agriculture back in 1907.
Bhagat Singh's uncle Ajit Singh was the force behind this agitation, and he wanted to channel people's anger over the farm laws to topple the colonial government.
The three farm-related acts at the centre of the storm in 1907 were the Punjab Land Alienation Act 1900, the Punjab Land Colonisation Act 1906, and the Doab Bari Act.
These acts would reduce farmers from owners to contractors of land, and gave the British government the right to take back the allotted land if the farmer even touched a tree in his field without permission.