Mangrove Alliance For Climate (MAC) : COP27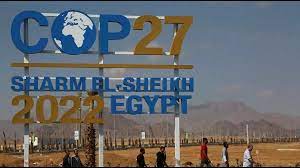 During the COP27 climate summit in Sharm El Sheikh, Egypt, the UAE and Indonesia announced the "Mangrove Alliance for Climate."
Mangrove Alliance for Climate (MAC):
It includes UAE, Indonesia, India, Sri Lanka, Australia, Japan, and Spain.
It seeks to educate and spread awareness worldwide on the role of mangroves in curbing global warming and its potential as a solution for climate change.
However, the intergovernmental alliance works on a voluntary basis which means that there are no real checks and balances to hold members accountable.
Instead, the parties will decide their own commitments and deadlines regarding planting and restoring mangroves.
The members will also share expertise and support each other in researching, managing and protecting coastal areas.
Mangroves:
Mangroves are defined as assemblages of salt tolerant trees and shrubs that grow in the intertidal regions of the tropical and subtropical coastlines.
They grow luxuriantly in the places where freshwater mixes with seawater and where sediment is composed of accumulated deposits of mud.