Strait Of Hormuz: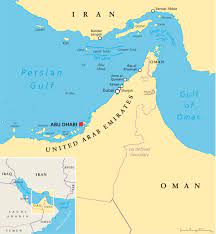 The United Arab Emirates and Iran's military have started their annual Drill in the coastal area of the Gulf of Oman and near the strategic Strait of Hormuz.
The maneuvers are aimed at improving readiness in confronting foreign threats and any possible invasion.
The strait is located at the mouth of the Persian Gulf and is crucial to global energy supplies, with about a fifth of all oil traded at sea passing through it.
The waterway separates Iran and Oman, linking the Persian Gulf to the Gulf of Oman and the Arabian Sea.
The Strait is 33 km wide at its narrowest point, but the shipping lane is just three km wide in either direction.
Most crude exported from Saudi Arabia, Iran, the UAE, Kuwait and Iraq – all members of the Organization of the Petroleum Exporting Countries (OPEC) – is shipped through this waterway.
It is also the route used for nearly all the Liquefied Natural Gas (LNG) produced by the world's biggest LNG exporter, Qatar.
The UAE and Saudi Arabia have sought to find other routes to bypass the Strait, including building more oil pipelines.