Parivar Pehchan Patra (PPP) Scheme: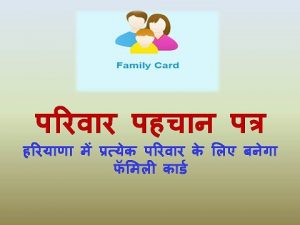 There has been a privacy concern with respect to Haryana's Parivar Pehchan Patra (PPP) Scheme.
Although enrollment under the scheme is voluntary, the precondition of linking it to get the benefit of many essential services has raised serious concerns about the scheme.
Current Issue:
Although the enrollment under the PPP is voluntary, but in case a citizen or a family wishes to apply for a service delivered by the Haryana government, the PPP ID would be required, which leaves very little choice before the residents.
In the absence of privacy laws in India, or any indication of data protection Standard Operating Procedures being followed for this exercise, there is a strong possibility of potential abuse of the data collected under the PPP.
Moreover, a lot of data that is being sought is well above and beyond what is required for the delivery of a particular service.
Parivar Pehchan Patra (PPP) Scheme:
The PPP scheme was formally launched in July 2019 to achieve the Haryana government's vision for 'paperless' and 'faceless' delivery of schemes, services, and benefits offered by the state government.
Under this, each family is considered a single unit and gets an 8-digit unique identification number, called family ID.
Family IDs are also linked to independent schemes like scholarships, subsidies, and pensions, so as to ensure consistency and reliability.
It also enables the automatic selection of beneficiaries of various schemes, subsidies, and pensions.