Patharughat: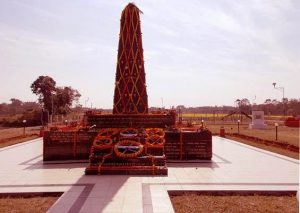 Twenty-five years before the Jallianwallah Bagh massacre, more than a hundred peasants fell to the bullets of the British on January 28, 1894 in Patharughat, a small village in Assam's Darrang district.
The unarmed peasants were protesting against the increase in land revenue levied by the colonial administration, when the military opened fire.
On January 28, 1894, many local peasants gathered in a protest meeting at Patharughat (also known as Patharighat), condemning the increasing land tax levied by the British.
As a result, a rebellion brewed in the hearts of the peasants against the British.
After much discussion amongst themselves, it was decided that no taxes would be paid to the British, until a proper solution was found to the problem. They were even willing to revolt against the British for the cause.
While the protest meeting was going on, Deputy Commissioner of Darrang district, JD Anderson, Mr Barrington, SP and Mr Remington, SDO, arrived at the venue along with full police force.
On the orders of Barrington, the police opened fire on the gathering present there. hundreds of people were injured and around 140 of them were killed on spot.
Every year on January 28, the government and local people pay respects to the martyrs of the incident (Krishak Swahid Diwas).