PM Modi Unveils National Emblem On New Parliament Building: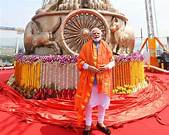 Prime Minister Narendra Modi unveiled the National Emblem cast on the roof of the new Parliament building.
The concept sketch and process of casting the National Emblem on the roof of the building went through eight different stages of preparation from clay modelling/ computer graphics to bronze casting and polishing.
About National Emblem:
On 26 January 1950, a representation of the Lion Capital of Ashoka placed above the motto, Satyameva Jayate, was adopted as the State Emblem of India.
It was chosen as a symbol of contemporary India's reaffirmation of its ancient commitment to world peace and goodwill.
The state emblem is an adaptation from the Sarnath Lion Capital of Ashoka.
In the original, there are four lions, standing back to back, mounted on an abacus with a frieze carrying sculptures in high relief of an elephant, a galloping horse, a bull and a lion separated by intervening wheels over a bell-shaped lotus
Carved out of a single block of polished sandstone, the Capital is crowned by the Wheel of the Law (Dharma Chakra).