Recruiting 10 Lakh Personnel: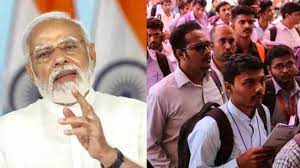 Prime Minister Narendra Modi announced that his government would be recruiting 10 lakh personnel within the next 18 months (1.5 years), "on a mission mode" , a major drive after recruitment to government jobs was derailed following the COVID-19 pandemic.
Unemployment has emerged as one of the major challenges before the Modi government after two years of the pandemic and its attendant economic woes.
An additional problem with regard to recruitment to government jobs has been the frequent leak of examination papers both for departments such as the Railways and for teacher recruitment as well.
Much of the recruitment would be in the Railways, armed forces ('Agnipath' and regular recruitment which had been frozen through the pandemic), the Central Paramilitary Forces, Goods and Services Tax (GST) departments, including customs and excise and administrative staff for government- owned banks and insurance companies.
The announcement came on a day when Defence Minister Rajnath Singh and the three Service Chiefs announced the 'Agnipath' scheme of recruiting youth between the ages of 17.5 and 21 for a four-year stint in the armed forces with a provision of voluntary retention after this period, based on merit.