Report On Forced Displacement: UNDP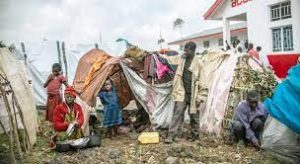 According to the United Nations Development Program (UNDP) report "Turning the tide on internal displacement: A development approach to solutions", for the first time ever, more than 100 million people were forcibly displaced in 2022, most of them within their own countries.
Findings of the Report:
At the end of 2021, there were over 59 million people forcibly displaced within their own countries due to conflict, violence, disasters and climate change.
Before the war in Ukraine, 6.5 million people are estimated to have been internally displaced.
By 2050, climate change may force more than an estimated 216 million people to move within their own countries.
Disaster-related internal displacement is even more widespread, with new displacements recorded in over 130 countries and territories in 2021.
Around 30% of professional lives became unemployed and 24% were not able to earn money the same way as before.
48% of the internally displaced households earned less money than before displacement.