Report On The Functioning Of The MGNREGA To The Lok Sabha: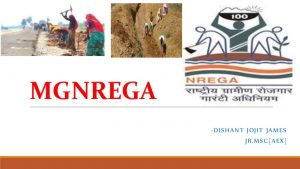 The Parliamentary Standing Committee on Rural Development and Panchayati Raj has submitted its report on the functioning of the MGNREGA to the Lok Sabha.
Concerns highlighted:
There has always been a hike in the revised estimate over the budget estimate in the past.
Delay in the release of funds.
Wide disparity in the wage rate between one state to another.
Fake job cards, widespread corruption and late uploading of muster rolls.
Recommendations made:

Increasing the number of guaranteed working days from 100 to at least 150.
Increase the permissible work taking into account the local geographical terrain and local requirements.
The government should relook at its calculation and suitably approach the ministry of finance for higher allocation of funds in order to speed up the pace of rural development schemes for dearth of budget.
As per the latest economic survey Demand for work under MGNREGA scheme has dropped from the peak of the first lockdown, but is still higher than pre-COVID levels.
The highest demand for work under the scheme was seen in States which are usually the destination of migrant workers, rather than source States.
About MGNREGA:
The scheme was introduced in 2005 as a social measure that guarantees "the right to work".
The key tenet of this social measure and labour law is that the local government will have to legally provide at least 100 days of wage employment in rural India to enhance their quality of life.
Key objectives:

Generation of paid rural employment of not less than 100 days for each worker who volunteers for unskilled labour.
Proactively ensuring social inclusion by strengthening the livelihood base of rural poor.
Creation of durable assets in rural areas such as wells, ponds, roads and canals.
Reduce urban migration from rural areas.
Create rural infrastructure by using untapped rural labour.